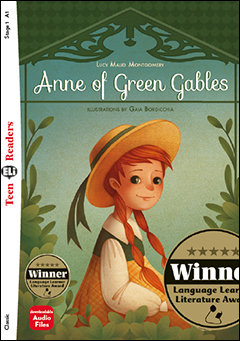 Anne of Green Gables
Stage 1 Elementary | 600 headwords | A1 | Movers | Classic
Authors
Lucy Maud Montgomery Retold by Michael Lacey Freeman. Illustrated by Gaia Bordicchia
The bestselling novel by Canadian author Lucy Maud Montgomery.
One day, in Canada, an eleven year old girl, Anne, arrives at Green Gables. She is going to live with Marilla and Matthew Cuthbert, who are brother
and sister. But Anne does not know that Matthew and Marilla want a boy and not a girl.
Syllabus
Vocabulary areas
Home, School, Family, Nature, Colours,
Clothing.
Grammar and structures
Simple Present: states and habits,
Present Continuous: actions in progress,
Past Simple: finished actions, Future
forms: Present, Continuous, going to,
will, Can: ability, Could: ability, Must:
obligation, Have to: necessity, Will: offers,
predictions, Adjectives, Prepositions
(place, time), Pronouns, Question Words,
Relative Clauses, There is/There are,
Verbs + infinitive/ing, When clauses
Tags
Tags | Friendship | Emotions
Extra Digital Resources - Student
Extra Digital Resources - Teacher
Register or log in to view additional digital contents for the teacher
Purchasing Info
Anne of Green Gables - Teen ELI Readers
ISBN: 9788853631848