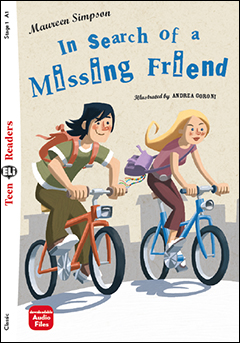 In Search of a Missing Friend
Stage 1 - Teen ELI Readers - below A1
Authors
Maureen Simpson - Illustrated by Andrea Goroni. Activities and Focus on by Sara Weiss.
'This isn't going to stop us! We're definitely going to find Wills!'
No one knows where Wills has gone - and his best friends, the twins Harry and Camilla - are very worried. Last time they saw him, Wills was with
the Black Hand Gang - and he looked extremely unhappy! Luckily, Wills has left the twins lots of clues to follow - maybe they'll find him soon.
You can solve the mystery, you can find Wills. You'll discover his fantastic inventions too!
Syllabus
Vocabulary areas
Friends and enemies,
family and community members,
places, problem solving,
describing places
Grammar and structures
Present simple, Present continuous,
Past simple, Question words,
Adjectives, Verb collocation
Tags
Friendship | Adventure
Extra Digital Resources - Student
Extra Digital Resources - Teacher
Register or log in to view additional digital contents for the teacher
Purchasing Info
In Search of a Missing Friend - Teen ELI Readers
ISBN: 9788853631817