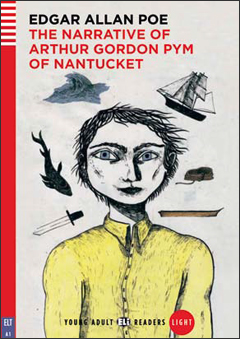 The narrative of Arthur Gordon Pym of Nantucket
Adaptation and activities by Janet Borsbey and Ruth Swan - Illustrated by Arianna Vairo
Edgar Allan Poe's only novel is an exciting and unmissable story and a classic of American literature.
His name is Arthur Gordon Pym. He comes from Nantucket. Nantucket is a  town in America, near the sea. People from Nantucket are often sailors. His grandfather is a lawyer. He's famous and he's very rich. Gordon Pym is very lucky.
He is only eighteen years old, but he as a small boat. Its name is the Ariel. He often goes sailing on the Ariel, near Nantucket. He has a good education and a dream: he wants to go to sea. This is the story of his adventures at sea. He meets pirates, a ghost ship, and storms.
He visits Kerguelen's Land, Prince  Edward's Island and Tristan da Cunha before arriving in Antarctica.
Syllabus
Articles: a, an, the
Nouns: countable and uncountable, plural, possessive
Pronouns: subject, object
Quantifiers: some/any, more
Adjectives: possessive, opinion
Prepositions: place, time, movement
Verbs: Present Simple, Present
Adverbs: frequency, manner
Access digital content directly from the paper book
With ELI LINK you will be able to access all audio and video content directly from a smartphone or tablet while you are using your paper textbook.
Extra Digital Resources - Student
Extra Digital Resources - Teacher
Register or log in to view additional digital contents for the teacher
Purchasing Info
The narrative of Arthur Gordon Pym of Nantucket
ISBN: 9788853632203