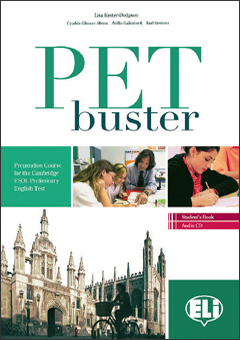 PET buster
Course for the preparation of the Cambridge Preliminary English Test (PET) exam
Authors
By Lisa Kester Dodgson Cynthia Gilmore Alston, Attilio Galimberti, Karl Graham
PET buster offers students thorough preparation for the Cambridge English: Preliminary (PET) examination based on the language elements listed in the PET lists.
Coursebook + Audio CD
• 16 units developing the four language skills.
• Vocabulary building using topics listed by Cambridge English.
• Section dedicated to hints and suggestions for success at the exam.
• Audio CDs with recordings for all listening-based tasks.
• With key and without key version.
Teacher's Book
• Complete lists of structures, functions and vocabulary for each unit.
• Full answer keys to all exercises and activities.
• Transcripts of all recorded material.
• Ideas for extra extension and revision exercises.
Extra Digital Resources - Teacher
Register or log in to view additional digital contents for the teacher
Purchasing Info
PET Buster - Preliminary SB w/o key
ISBN: 9788853612687
PET Buster - Preliminary SB with key
ISBN: 9788853612694
PET Buster - Teacher's Book
ISBN: 9788853612717