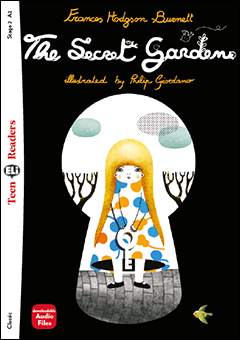 The Secret Garden
Stage 2 - Teen ELI Readers - below A2
Authors
Frances Hodgson Burnett - Illustrated by Philip Giordano
It is one of Burnett's most popular novels, considered to be a classic of children's literature.
One day in India, nine-year old Mary wakes up and finds that she is completely alone. Back home in England, she is sent to live with an uncle she has never met. His house
is a strange, lonely place where she will gradually discover secret after secret in a new and magical world.
Syllabus
Vocabulary areas
Clothing, Home and garden, Jobs,
Emotions, Games and toys, Family,
Animals
Grammar and structures
Simple Present: states and habits,
Present Continuous: actions in
progress, Past Simple: finished actions,
Past Continuous, Present Perfect,
Future forms: Present Continuous,
going to, will
Types of clause
Main clause, Subordinate clause
following sure, certain, know, think…
Defining and non defining relative
clauses
Tags
Friendship | Emotions
Extra Digital Resources - Student
Extra Digital Resources - Teacher
Register or log in to view additional digital contents for the teacher
Purchasing Info
The Secret Garden - Teen ELI Readers
ISBN: 9788853631954