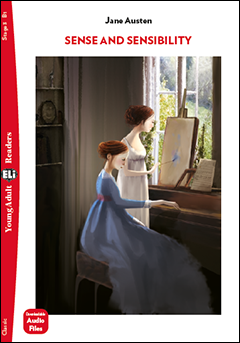 Sense and Sensibility
STAGE 3 Intermediate | 1000 headwords | B1 | Preliminary | Classic
Authors
Jane Austen. Adaptation and activities by Elizabeth Ferretti. Illustrated by Barbara Baldi Bargiggia
The philosophical resolution of the novel is ambiguous: the reader must decide whether sense and sensibility have truly merged.
 In this Reader you will find: Background information about this novel | A short biography of Jane Austen | Glossary of difficult words | Comprehension activities | Preliminarystyle activities | Exit test  Tags Love | Society Elinor is careful but Marianne is not.
 They both meet the man of their dreams, but will they find true happiness? Sense and Sensibility is Jane Austen's classic story of two sisters who have a lot to learn about love.
Access digital content directly from the paper book
With ELI LINK you will be able to access all audio and video content directly from a smartphone or tablet while you are using your paper textbook.
Extra Digital Resources - Student
Extra Digital Resources - Teacher
Register or log in to view additional digital contents for the teacher
Purchasing Info
Sense and Sensibility - Young Adult ELI Readers
ISBN: 9788853632388