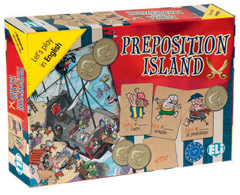 Preposition Island
A1 Level
WHAT IS IT?
Preposition Island is a board game which helps with the learning process, revision and correct use of prepositions of place.
LANGUAGE AIMS
The game develops understanding and encourages the formation of sentences with prepositions of place.
CONTENTS
The game includes 66 cards including 58 with pictures and sentences and 8 with prepositions of place: above, under, behind, in front of, between, next to, inside, on. It also includes 60 gold coins and an illustrated playing board of 'Preposition Island'. The pirates' galleon is anchored on 'Preposition Island', and by looking at the pirates, the players have to form sentences that require a particular preposition of
place in order to win the treasure.
DISTANCE LEARNING
The cards and the playing board that is full of interesting details, can become an excellent material to use during online classes and courses, for example by describing all of the details included in the playing board scene.
Extra Digital Resources - Teacher
Register or log in to view additional digital contents for the teacher
Purchasing Info
Preposition Island
ISBN: 9788853613622