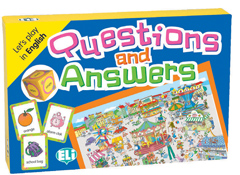 Questions and Answers
Grammare and vocabulary
WHAT IS IT?
Questions and Answers is a useful board game to revise pronouns and adverbs in questions in an alternative way, all in the fun context of a fun fair.
LANGUAGE AIMS
The game is designed to stimulate conversation, learning and the use of vocabulary and language structures. It is perfect both as a board game to play at home with friends and as an educational tool to revise and reinforce language in the classroom.
CONTENTS
The game includes 66 illustrated cards with 66 elements from the playing board. The playing board shows a detailed fun fair, full of useful elements to stimulate observation skills and to guess a specific card. The dice with the words who, what, where, how, when, which marks the path of the questions that can be asked upon each throw of the dice.
DISTANCE LEARNING
As with our other board games, Questions and Answers was initially designed to be used in the classroom, but the cards and the playing board make this game an educational tool that is also adaptable during online classes and courses. The playing board is perfect for learning to describe a very detailed picture and the cards can be used to learn new words, but also to create a 'virtual' treasure hunt.
Extra Digital Resources - Teacher
Register or log in to view additional digital contents for the teacher
Purchasing Info
Questions and Answers
ISBN: 9788853611659