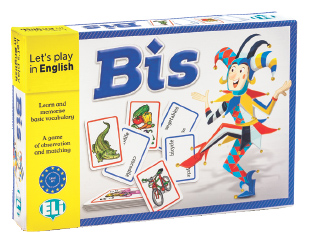 Bis - ELT
Vocabulary
What is it?
Bis is a simple, useful and fun card game based on matching pictures and words.

Language aims
Students learn and memorise basic English vocabulary in a fun and engaging way. A range of vocabulary items are introduced via lexical sets: food, animals, clothing, means of transport, household items and daily actions.

Contents
The game contains 132 cards divided into pictures (red cards) and words (blue cards). 
Extra Digital Resources - Teacher
Register or log in to view additional digital contents for the teacher
Purchasing Info
Bis - ELT
ISBN: 9788885148284