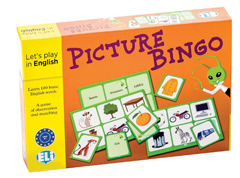 Picture Bingo
A1 Level
WHAT IS IT?
Picture Bingo is based on the fun, well-known game of observation and matching.
LANGUAGE AIMS
The game helps students learn and memorise 100 basic English words in a fun and enjoyable way. The words relate to a variety of lexical topics: animals, colours, shapes, food, household and school items, toys, clothes, nature, weather and means of transport.
CONTENTS
The game includes 100 cards with a picture on one side and the corresponding word on the reverse side, and 36 boards with
six pictures on one side and the six corresponding words on the reverse.
DISTANCE LEARNING
Dividing the game into multi-image boards and reversible cards with pictures and words allows for an alternative use of the material also during online classes and courses, such as assigning the correct name to each picture shown on the board or asking students to form a sentence by using all of the pictures on the board.
Extra Digital Resources - Teacher
Register or log in to view additional digital contents for the teacher
Purchasing Info
Picture Bingo
ISBN: 9788853625793