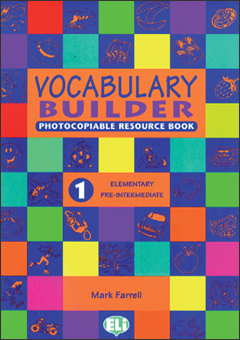 Vocabulary Builder
Consolidate and widen students' knowledge of vocabulary and structures relating to everyday life.
An excellent teaching support for any course and for class activities. A1-B2
Each volume contains 60 worksheets presenting approximately 40 topics and language areas. Students put more than 1000 new words to use in activities such as matching, fill the gaps, crosswords etc. Brief dialogues are included in some units. The activities areideal for use as quiz or testing material. A full answer key makes this volume ideal for self-study.
Purchasing Info
Vocabulary Builder 1
ISBN: 9788881485550
Vocabulary Builder 2
ISBN: 9788881487431