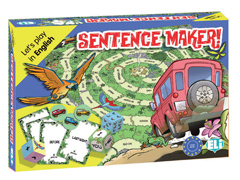 Sentence maker!
ELI
Verb tenses
WHAT IS IT?
Sentence Maker! is a fun board game that helps with the learning process, revision and correct use of verb tenses.
LANGUAGE AIMS
The game helps students to improve their comprehension and production skills and to form sentences using time expressions and different tenses: past simple, present simple, present continuous, future simple. It also expands English vocabulary related to everyday verbs.
CONTENTS
The game includes a playing board with 66 spaces (each space shows a verb in the infinitive), 66 cards with time expressions, a numbered dice in order to advance along the board, a dice with personal pronouns, a dice showing one affirmative, one negative, one interrogative and one continuous form and counters.
DISTANCE LEARNING
Despite the typical features of a traditional board game, Sentence Maker! can also be used as a tool for alternative learning during online classes and courses. The cards with time expressions and the verbs included in the playing board can be useful prompts to form correct and complete sentences.
Extra Digital Resources - Teacher
Register or log in to view additional digital contents for the teacher
Purchasing Info
Sentence maker!
ISBN: 9788853616746