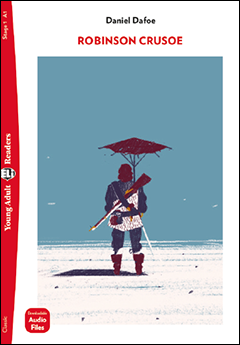 Robinson Crusoe
STAGE 1 Elementary | 600 headwords | A1
Authors
Daniel Dafoe - Retold by Silvana Sardi
Crusoe's father wants him to be a good guy, but Crusoe wants nothing more than to travel around the world. His first voyage is a disaster! Robinson survives but doesn't go home and travels to Brazil. Then…
In this Reader you will find:
Information about Daniel Dafoe's life | Focus On Sections | Appreciation and Extension Activities
At the age of eighteen, Robinson Crusoe, a young Englishman, leaves his family to see the world. One night, there's a terrible storm. His  ship goes down and all his friends die. Robinson gets to an island. What will he do all by himself? How will he live? Will he ever see England again?
Access digital content directly from the paper book
With ELI LINK you will be able to access all audio and video content directly from a smartphone or tablet while you are using your paper textbook.
Extra Digital Resources - Student
Extra Digital Resources - Teacher
Register or log in to view additional digital contents for the teacher
Purchasing Info
Robinson Crusoe - Young Adult ELI Readers
ISBN: 9788853632241