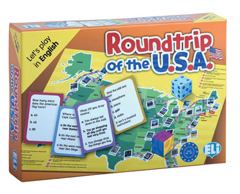 Roundtrip of the U.S.A.
Culture and interdisciplinary topics
WHAT IS IT?
Roundtrip of Britain and Ireland is an original and fun game that allows players to expand their knowledge related to English-speaking culture, just like during a real trip.
LANGUAGE AIMS
The game allows students to become familiar with the language and culture of the English-speaking world, to expand their vocabulary
and the correct use of grammar structures: definite and indefinite articles, high-frequency verbs, interrogative and negative forms,
tenses, numbers up to 100. An additional benefit is that this game promotes learning and using commonly-used idiomatic expressions.
CONTENTS
The game includes a playing board with a map of Britain and Ireland with a path to discover cities, monuments, festivals and traditions, 132 cards divided into two packs for level A2 and level B1 with questions about history, culture, geography, grammar, riddles, idiomatic expressions, lexical choices and two dice.
DISTANCE LEARNING
All of the cards and the questions can be used without limitations even during online classes and courses. The playing board can also be a starting point for finding out more about the English-speaking world and its most characteristic locations.