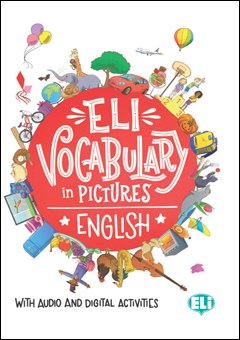 ELI Vocabulary in Pictures - English
Colourful, up-to-date and easy to use, the ELI Vocabulary in pictures is the ideal tool for learning or revising basic English vocabulary.
The captivating situations, the immediate picture-word association, plus the audio recordings and fun digital activities, engage young students in a pleasant learning process.
Learning English is easy and fun with the ELI Vocabulary in pictures!
- 45 attractive thematic situations with delightful illustrations
- More than 1000 words: nouns, adjectives, verbs and prepositions
- A complete alphabetical index of the words
- Audio recordings of all words and digital activities for each situation downloadable online
Access digital content directly from the paper book
With ELI LINK you will be able to access all audio and video content directly from a smartphone or tablet while you are using your paper textbook.
ELiDigiBook
The digital book is available on Eli Digital Hub platform.
Find out how to activate your book.
Purchasing Info
ELI Vocabulary in Pictures - English
ISBN: 9788853624598