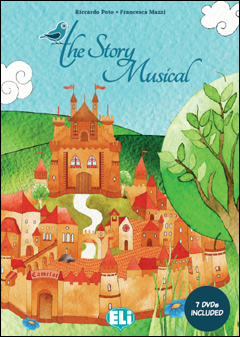 The Story Musical
Elementary - Common European Framework: A1-A2
Authors
Riccardo Poto, Francesca Mazzi
The Story Musical is a series of stories and tales in English aimed at Primary Schools. The material has been created according to a
format which provides the teacher with all the tools required to set up a musical. The teacher is guided through the organization of all the
various activities involved in preparing a musical, in order to optimize the results.
The stories are inspired by the most famous classics, but have been completely rewritten to give a lighter note to the material, which is upto-date, fun, and ready to be staged: Hansel and Gretel, The Ugly Duckling, The Jungle Book, Peter Pan King Arthur, the Canterbury
Tales, Romeo and Juliet.
FOR THE TEACHER
SCRIPT AND SCREENPLAY
The fairy tales and stories are composed of eight frames; the script with the parts to be recited, also provides indications on how to make
costumes and small props for the characters, the settings and the actions contained in the scenes. The duration of each performance
varies from 30 to 45 minutes.
AUDIO TUTORIAL OF THE RECITAL
The audio guide of the recital, helps with the understanding of theatrical timing, intonation and characterisation of the voices of all
the characters.
SONGS AND MUSIC
Each fairy tale or story contains five original songs, available in two versions: vocal and instrumental base without vocals.
SCENERY
There are five scenery backdrops for each musical with original, high-resolution digitised illustrations. They can be projected onto
any surface to provide the correct theatrical setting. As well as the scenery, there are drawings of the main characters.
DANCE VIDEO TUTORIAL
One song has been selected for the main dance. The choreographer gradually explains all the steps, dividing the dance into short sections
that can be selected directly from the chapters of the video, thus greatly facilitating the pupils when they study and learn the steps.
THEATRE VIDEO TUTORIAL
The video contains the complete staging of the musical. It provides instructions for the pupils on how to recite by demonstrating the
movements and gestures of the characters and illustrates the organisation of the space on stage, which could be a classroom, a
gym, a garden or a courtyard.
PROPS AND COSTUME VIDEO TUTORIAL
The costumes and props are made with recycled materials, cheap and easy to find. A workshop-guide stimulates the children's imagination
and creativity.
TEACHER'S GUIDE
This consists of a text that provides the teacher with a set method to create the musical and describes all of the different phases, from
casting to general rehearsal as well as acting and works as a support for the teacher providing practical and experienced advice.
Purchasing Info
The Story Musical+DVDs (208 pp.) + 7 DVDs
ISBN: 9788853628992