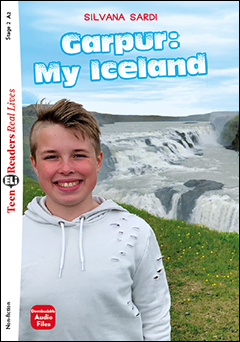 Garpur: My Iceland
Stage 2 800 headwords | A2 | Movers | Real Lifes
Have you ever been to Iceland?
Hello! My name's Garpur, and this is a story about me and my country, Iceland. I suppose you've heard some-thing about Iceland, but there are still lots of things you can read about this island in these pages like the best places to visit, our wonderful landscape, and the animals you can find here. Do you know what we eat? … what school is like here? … what young guys like me do in their free time? Well,
it's all here in this book, as well as information about my family and friends and … best of all … about my favourite sport, handball. Hope you enjoy it!
Syllabus
Verbs Present simple and present
continuous - Past simple and past
continuous - Present perfect simple
- Future with going to and will - Can,
have to, need, must, would like, could,
should - Common phrasal verbs -
Passive forms – present and past
simple - Imperative forms
Adjectives Comparative and
superlative forms
In this Reader you will find:
Cultural boxes | Glossary of difficult words | An audio recording of the story | Authentic photos |
Comprehen-sion and A2 Key style activities
Tags
Family | Friendship and team spirit | Traditions and nature
Extra Digital Resources - Teacher
Register or log in to view additional digital contents for the teacher
Purchasing Info
Garpur: My Iceland
ISBN: 9788853632104