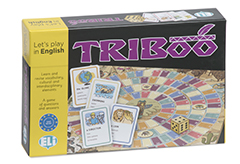 Triboo ELT
Culture and interdisciplinary topics
WHAT IS IT?
Triboo is a useful and challenging game based on the exchange of questions and answers, using keywords and clues to guess in the English language.
LANGUAGE AIMS
The game allows students to learn and revise vocabulary, cultural and interdisciplinary elements of the English language.
CONTENTS
The game includes 132 cards divided into six decks corresponding to six vocabulary and disciplinary categories: Science, History,
Geography, Sport, Entertainment, Art and Literature. Other contents: a playing board, a dice, 15 counters.
DISTANCE LEARNING
The cards for matching words and pictures make this a perfect and useful tool during distance learning situations. The pictures can stimulate students' descriptive skills and the questions with suggestions do not require the physical presence of students in order to be used. Therefore, this game is also perfect during online classes and courses.
Extra Digital Resources - Teacher
Register or log in to view additional digital contents for the teacher
Purchasing Info
Triboo ELT
ISBN: 9788853630070