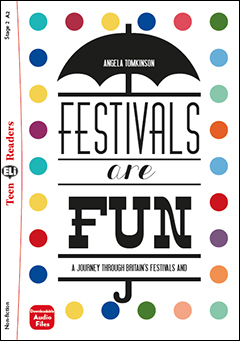 Festivals are fun
Do you want to join us on our A-Z journey around the festivals of Britain?
Would you like to learn about the biggest dog show in the world?
Or how many fire festivals there are in Britain? Do you want to know what happens during the festival of sleep and find out on which day British people eat pancakes?
You can discover the answers to these questions and learn much more about the different festivals and events that happen every year in Britain. Let's go and have some fun!
In this reader you will also find:
- Glossary of difficult words
- After-reading activities
- An audio recording of the book
Access digital content directly from the paper book
With ELI LINK you will be able to access all audio and video content directly from a smartphone or tablet while you are using your paper textbook.
Extra Digital Resources - Teacher
Register or log in to view additional digital contents for the teacher
Purchasing Info
Festivals are fun
ISBN: 9788853624024