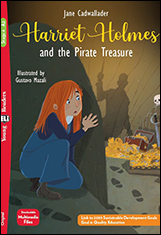 Harriet Holmes and the Pirate Treasure
ELI
400 headwords | A2 | Flyers Original
Authors
Jane Cadwallader. Illustrated by Gustavo Mazali
A new adventure for Harriett Holmes.
Will Harriet Holmes and her friends be able to solve the case of the ghost of Lady Emily who is trying to scare Lady Frankie Strangehill from her home? Has it got anything to do with some pirate treasure from long ago?

Syllabus
Vocabulary areas
Jobs, time references, house, sport
and leisure
Language
Present tenses, Simple past regular
and irregular, Past continuous (for
interrupted actions and background
setting), Present perfect;
Will  Going to future;
Why, Who, Where, What?;
Where clauses, When clauses,
Conjunctions and, but, so
Expressions
To die of a broken heart.  I'll …. later 
Then, one day …  Let me in  Go away!
 Maybe …  It's like a …  Suddenly …
 Quick!  I wonder …  Just in time … 
That's bad news!
Tags
Critical thinking | Adventure | Bravery
Access digital content directly from the paper book
With ELI LINK you will be able to access all audio and video content directly from a smartphone or tablet while you are using your paper textbook.
Purchasing Info
Harriet Holmes and the Pirate Treasure
ISBN: 9788853637543